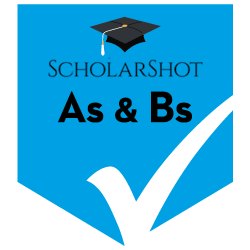 Introduction to the Texas Public
University Report Card
About the Author and FGLI Students at Our Universities
ScholarShot is a nonprofit organization whose mission is to help at-risk students exit poverty by completing career-ready vocational, associate, or bachelor degrees. The primary focus of ScholarShot is to support the Scholars, all First-Generation Low-Income (FGLI) students, in the ScholarShot program as they navigate through college.  Scholars are given academic, financial, and social support throughout their time in the program.  This process begins during their senior year of high school when ScholarShot meets with hundreds of North Texas FGLI students each year and the support continues through college graduation.  The ScholarShot program has a 96% graduation rate and Scholars graduate with less than 1/3rd of the average debt of fellow graduates.
The ten plus years of ScholarShot's work with FGLI students exposes a costly blind spot in our education system which led ScholarShot to create the original Texas University Report Card in January 2020.
This blind spot is our state's poor performance in transferring our high school graduates from a diploma to a livable wage.  Data from the US Bureau of Labor Statistics shows that some post-secondary credential is required – for example, a vocational, associate or undergraduate degree – to be employable at a livable wage.[1]  Looking at the most recent pool of data from the Texas Higher Education Coordinating Board (THECB), we see, in fact, that this needle is moving in the wrong direction.
The graphic to the right shows two startling statistics.  Firstly, fewer than half of the 350,000 students who graduate from Texas high schools make any attempt at earning a post-secondary credential.  Note that this percentage has dropped from 60% attempting in 2008 to 49% in 2020.  Secondly, the percentage of students succeeding has also dropped from 33% to less than one third, or 29%.  Considering that Texas taxpayers invest $150,000 in each K-12 education, this means the return for the $37 billion taxpayers have invested in the 71% not earning anything post high school, is a poverty wage or low employability.  Needless to say, these are not satisfactory outcomes for our students, our communities, or our state.
The purpose of the Texas University Report Card is to improve post-secondary outcomes for Texas students by sharing best practices currently used by the universities to better engage and support their FGLI students and challenge those universities making less effort in the outcome of their students.  We recognize that college readiness is largely the responsibility of our K-12 systems, however, if our universities are willing to enroll FGLI students, take their grants. and offer loans, they must also engage in a commitment to maximize their students' success.
Of the several hundred FGLI students ScholarShot advises each year, listed below are observations that ScholarShot finds are prevailing practices in Texas:
1. Prevailing advisement from high school focuses on class rank and GPA rather than national standards of college readiness, like SAT or ACT scores. The effect is over-matching students in universities where they risk high debt and low rates of success.
2. The support systems of our post-secondary institutions predominately rely on students taking the initiative to advocate and intervene for themselves. FGLI students by and large, have not had the chance to learn this skill and instead respond to challenging circumstances with a "fight, flight, or freeze" mentality.
3. Most FGLI students exhibit a high degree of grit and desire to prove themselves, making them vulnerable to poor advisement. Many enroll in universities not knowing the total cost of attendance or their financial gaps after grants and debt.
4. Many FGLI students are encouraged to "max out" their debt to afford a 4-year or named university and fulfill any unmet need not provided by grants or scholarships.
5. The majority of our state's FGLI students, by no fault of their own, are not succeeding in the current state of our public universities. Data from the THECB show the 87.5% of our LatinX and 91% of our African American FGLI students enrolling in college in Texas drop out.[2]
6. Earning a career-ready postsecondary credential is a key step for students from the FGLI population to exit poverty and reach a sustainable wage.
The final item above is an achievable objective for the majority of our FGLI students, and one desperately needed for the growing demands of our workforce.  This is the primary objective of the Texas Public University Report Card.
ScholarShot acknowledges that the number of FGLI students it advises are a fraction of the roughly 200,000 FGLI students graduating from high schools each year in Texas.   While ScholarShot believes its small sample of FGLI students represent the overall FGLI population, there are always exceptions.  ScholarShot also acknowledges that the measures making up the Report Card do not represent all the interactions or outcomes at all of the public universities.  ScholarShot contends, however, that the Report Card represents a new standard by which to measure and assess how well our public universities engage, or not, our FGLI students with the intent of them succeeding in earning a degree.
Introduction to the Texas Public University Report Card
The failure of our education system to transition FGLI students from high school to career is a costly blind spot for everyone involved including students, tax-paying citizens, public school districts, and higher education institutions.
Based on 2019-2020 data from the Texas Education Agency (TEA), 60.2% of students in public school identified as economically disadvantaged.[1]   The Texas Higher Education Coordinating Board (THECB) reports that 51.2% of students enrolled in our 4-year public universities are economically disadvantaged.[2]   Successfully making this transition means exiting poverty with the ability to earn a livable wage.  Failing this transition, however, means we return most of these deserving students back to a life of poverty or worse.  The lack of transitional support for this population means that as many as 7 out of 10 FGLI students enrolling in postsecondary institutions in Texas drop out.[3]  
Today's workforce requires some postsecondary certificate to achieve a sustainable wage.  That means, when this population drops out, we are accepting a poverty wage in return for our K–12 investment.  And worse, we block these students from reaching their potential.  The high rate of FGLI dropouts works against our better interests as well as the better interest of statewide initiatives such as TX 60X30, whose goal is to have 60% of our population with some postsecondary credential by year 2030.   The Higher Education Coordinating Board reports our current population with an associate degree or higher is 39.1%.[4]
This blind spot occurs because of systemic failings in three key areas, each with a significant impact on FGLI students.  As always, there are exceptions, but in general:
1. At Our High Schools – Our high schools tend to over-match FGLI students to institutions of higher learning where they are academically or socially unprepared and/or underfunded. While this feels good and commends the high school, it is not in the best interest of our students.
2. At Our Universities – Our universities lack sufficient resources and supports to engage FGLI students so that they are successful in earning degrees. Instead, the majority of FGLI students drop out.  Our universities readily accept these students and their public funding, but too many FGLI students drop out with debt and no degree.
3. Our Public Policy – Many of our public policies for higher education are access oriented, such as the Texas top 10% rule, which gives students in the top 10% of the high school class automatic entry into certain universities. Lesser known is the top 25% rule, where some universities automatically accept the top 25% of students.[5]  While well-meaning, these rules assure a large number of students, including many who are FGLI, get enrolled in universities not knowing they are unprepared, underfunded, or both.  Automatic admissions do not equal college ready.
Based on these failings, ScholarShot began working on the first ScholarShot Report Card in the Summer of 2019 which came out in January of 2020.  In 2019, the public universities in Texas were first surveyed by ScholarShot and graded based on data from the U.S. Department of Education and from the results of the survey.  Many lessons were learned from last year's survey and Report Card causing adjustments to be made so that this year's digs deeper into the schools' policies and programs for FGLI students.  A section on Covid-19 Response was added to the survey and Report Card this year evaluating how the universities handled the challenges that Covid-19 created.  We also added a section on Community Supports which gauges if schools have created opportunities for FGLI students to engage with other at-risk students and to be specifically supported by their university.  Some of this year's survey questions were reconstructed or added from last year's survey to ensure we obtained all relevant information from the universities.
The second annual FGLI Report Card was created with the same three objectives in mind as the first:
1. To encourage all Texas universities to improve their practices around supporting FGLI students. FGLI students are more than half of students enrolling in universities and the majority of the students receiving public funding.  Both our workforce and our FGLI students desperately need these degrees.
2. To inform and encourage advisers, parents, and students to consider schools that are graded higher at engaging FGLI students to and through graduation and consider carefully when recommending those that grade lower.
3. To motivate our state legislators, who fund over $350 million per year in the TEXAS Grant (over $1 billion when combined with the federal Pell grant and loans), to alter their model of distribution from school demand to school performance.
This year we are encouraging all universities to schedule a review with ScholarShot once the Report Card is published.  This review will go over how the school performed on the Report Card and will offer specific recommendations that will enhance graduation performance for their FGLI students.
If the Report Card is heeded by Texas high schools and public universities, we could see tremendous results for both FGLI students and Texas at large.  On this note, the BAIN Inspire Group shows the 6-year graduation rate for recipients of the TEXAS Grant (public university grant) at 54%, which returns a negative eight (-8%) ROI.[6]   If we can improve the graduation rate to 65%, which is the TX2036 goal, the TEXAS Grant returns a positive 12% (+12%) ROI, a respectable return.[7] Our state legislators and taxpayers, for many reasons, should particularly want to improve the degree completion rate and deliver a positive return on this public investment.
The Report Card lists, in ranking order, the public universities in Texas that have performed in the A-B range with FGLI students on an A-F scale.  There are two pages to the Report Card: a Summary page and a Category Detail page.  Online users can sort by column, region, or grade, or select one or more universities to compare here.  We expect most users will want to focus on the Category Detail page to select and compare schools based on one or more of the Categories.  In addition to the Report Card, in the section titled Best Practices below, we highlight specific practices Texas universities are implementing to achieve better outcomes for our FGLI students.
[1] See TEA Enrollment in Texas Public Schools 2019-20, page 10, showing 60.2% of Texas public school students economically disadvantaged. 
[2] THECB 2020 Texas Public Higher Education Almanac, page 13.
[3] IBID, pages 27 – 89.
[4] IBID, page 6.
[5]http://www.collegeforalltexans.com/index.cfm?objectid=24937C2A-D8B0-34EB-1FC5AF875A28C616#:~:text=Top%2025%25%20Admissions&text=Some%20universities%20in%20Texas%20have,or%20SAT%20scores%20to%20qualify
[6] BAIN Inspire study for ScholarShot produced December 17, 2018.
[7] See Texas 2036, marking Texas' 200th year anniversary at www.texas2036.org.
[1] According to the USBLS, 99% of the jobs created since the 2009 recession required a post-secondary credential.
[2] THECB 2010 Graduation Data