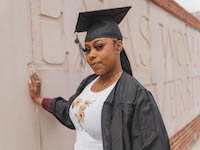 Tristen Arrington, Texas Woman's University, Bachelor of Arts, 2020
Tristen was born and raised in the Oak Cliff area of Dallas. Her parents both graduated high school but were unable to attend college. She was inspired to obtain her bachelor's degree by her grandmother who taught her the importance of education. Her grandmother, who raised her, passed away when Tristen was 10 and Tristen was determined to complete her degree in order to provide for her family and not to struggle. After her grandmother's passing, Tristen lived with her mother, who was her primary caregiver.
Tristen graduated from Townview Magnet Center, The Rosie Sorrells School of Education and Social Services in 2015. That fall, she enrolled at Texas Woman's University and planned to pursue a nursing degree. ScholarShot stepped into her life and she credits them with helping her balance life, work, and school.  They provided financial support that was beneficial because she didn't have to work full time. In 2018, Tristen had to leave the Nursing School at TWU unexpectedly. Tristen felt that she failed herself, and spent her time reflecting on her next steps. She leaned on ScholarShot to discover a new plan to continue toward college completion. Tristen re-enrolled at TWU in the fall of 2019 to pursue a degree in General Studies. ScholarShot was with Tristen every step of the way and provided unwavering support.
Tristen will graduate in Spring 2020 with her degree and plans to become a teacher. She is currently a pre-school teacher and serves as a Scholar Ambassador for ScholarShot. In this role, she assists with recruiting new scholars and represents ScholarShot at important events.
The achievement of obtaining a bachelor's degree has changed her family dynamic for the future generations and the children of her family members. Her nieces and nephews know they belong in universities or can achieve any goal they set their mind to after witnessing her journey. She is breaking generational curses and creating a new vision of what success can look like. Her piece of advice for any college student is to do what makes you happy and NEVER settle.