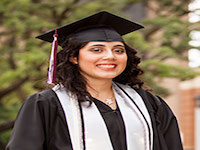 Mayra Romero, Texas Woman's University, Bachelor of Science, 2015
Mayra is the third of five children and has a large extended family. When she graduated from high school, her school counselor urged her to go straight to Texas Woman's University, but she was nervous since she heard stories that classes were a lot harder than the ones she had already taken as a dual-credit student. She went against what was encouraged and decided the smartest plan was to stay at Mountain View College to complete her Associates Degree in Science. She joined ScholarShot, and was thrilled they agreed that community college would be cheaper and get her caught up on core courses before transferring to TWU. Additionally, ScholarShot helped to fund college since Mayra's family did not have the resources to obtain her degrees.
Mayra graduated from TWU in Denton with a BS in Food and Nutrition and a minor in Business Administration in 2015 and now works for Borden as a Quality Assurance Technician. Mayra is excited and honored to be the first person in her entire family to graduate from a four-year university. Her younger sister, Sandra, is now in the program and pursuing a Nursing degree.