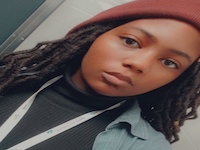 Cierra Jones, Mountain View College, Associate of Science, 2020
Cierra grew up in West Dallas surrounded by mother, father, three older siblings and one younger sibling. As she approached high school graduation, she was driven by the prospect of a great future with a stable career. Cierra came upon ScholarShot who helped support her throughout her career at Mountain View College.
The biggest challenge she encountered while transitioning from high school to college was adjusting to her new found freedom. With all the free time she had, it was difficult to know how to manage it. ScholarShot was able to help her adjust to her new schedule and best decide how to allocate her free time. Cierra also discovered that having conversations with her Academic Manager helped her work through any difficulties she encountered. The unconditional support and assistance provided through her tough situations proved invaluable.
Cierra's journey has inspired others in her family to pursue a higher education. Cierra's younger sister is about to graduate high school and is planning to go after her own degree. Cierra hopes incoming college students will be able to step outside their comfort zone and take advantage of opportunities whenever they present themselves.
Cierra currently works at American Airlines Center, a position she's held since high school. While she loves her job, Cierra ultimately would love to pursue her dream of a career in Computer Science working with National Geographic. After graduating from Mountain View, Cierra will continue her education at the University of North Texas.