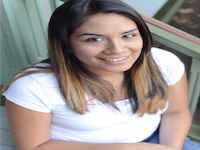 Ayane Rodriguez, University of Texas at Arlington, Bachelor of Science, 2015
Ayane grew up in Oak Cliff and attended Trinidad Garza Early College High School. In her senior year, she was unsure of her plans post high school. Following the trend and the advice of her friends, she planned to attend the University of Texas at Arlington. In her first year, she struggled both academically and financially.
As a ScholarShot Scholar, she received hands on academic management and financial assistance. The academic management helped her learn how to properly study and take notes. Additionally, they were able to refer her to a tutor to pass Organic Chemistry. ScholarShot also provided funds and aided Ayane with her financial gap.
In 2015, Ayane became a first-generation college graduate. She obtained a Bachelor's of Science in Biology and now works as a Lab Technician for Dr Pepper Snapple. To this day, Ayane attributes her academic success to the program. Her collegiate journey has changed her life and those around her. Ayane has two younger siblings, who are also in ScholarShot, following her steps in becoming first generation college graduates.