Comparing the Results: 2019 to 2021
While our questions have changed and adapted over the years, there are a few measures that have remained consistent. We have been tracking the aggregate changes of these measures since we began publishing the 2019 Report Card. Below you will see how these measures have progressed or digressed over the past 3 years.
Academic Engagement
Students per Academic Adviser
The image to the right displays the average number of students per academic advisor for all universities that participated in that given year.  As the graph shows, the trend is that the number of students per academic advisor has been decreasing over time, which is a positive change because a lower ratio gives students more access to their academic advisors.
Mandatory Time Limit
for Professors
The graph on the right illustrates the percentage of universities mandating a time limit policy for professors, either university-wide or departmentalized.  As observed, this measure initially increased from 2019 to 2020, but decreased in 2021.  There are two reasons for the decrease: different schools respond each year to the survey and schools attempted having time limits for professors in 2020 and decided not to maintain the policy.  The downward trend from 2020 to 2021 is disheartening because mandating time limits for professors to return grades provides the students more opportunities to improve their grades or even drop a class if they deem necessary.

Financial Management
Emergency Funds
The charts to the left show the percentage of universities in each given year that have emergency funds available to students.  In 2020, we saw a large increase in the percentage of schools with emergency funds available, however, in 2021 we saw that number drop slightly.  There were schools that had funds available specifically in 2020 due to Covid-19 and it is also possible that the variance in schools surveyed by year was a partial cause for the increase and then decrease the following year.
Student Services and Interventions
Tracking Students who Drop Out
in Good Academic Standing
The graph to the left shows the percentage of participating universities that are actually tracking whether a student who drops out is in good academic standing.  The upward progression of schools tracking the students who are dropping out in good standing is positive.  If schools are tracking why the students drop out of their university, they can identify the reasons students are dropping out and do a better job of counseling students to continue their education.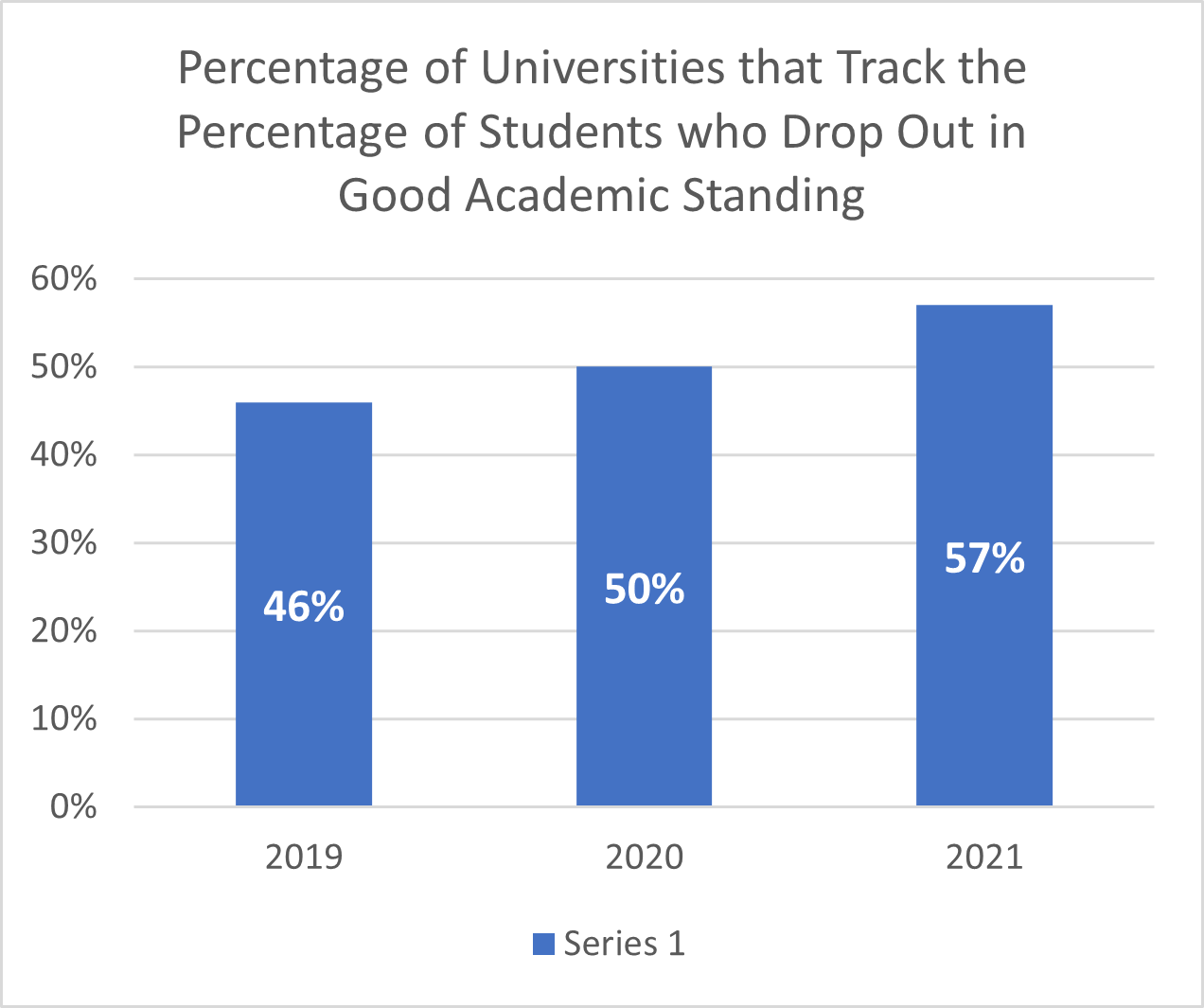 The graph to the right displays the cumulative percentage of students who are dropping out in good standing throughout the years surveyed.  The downward trend of students dropping out in good academic standing is excellent because it means that less students are dropping out when they are having success in school.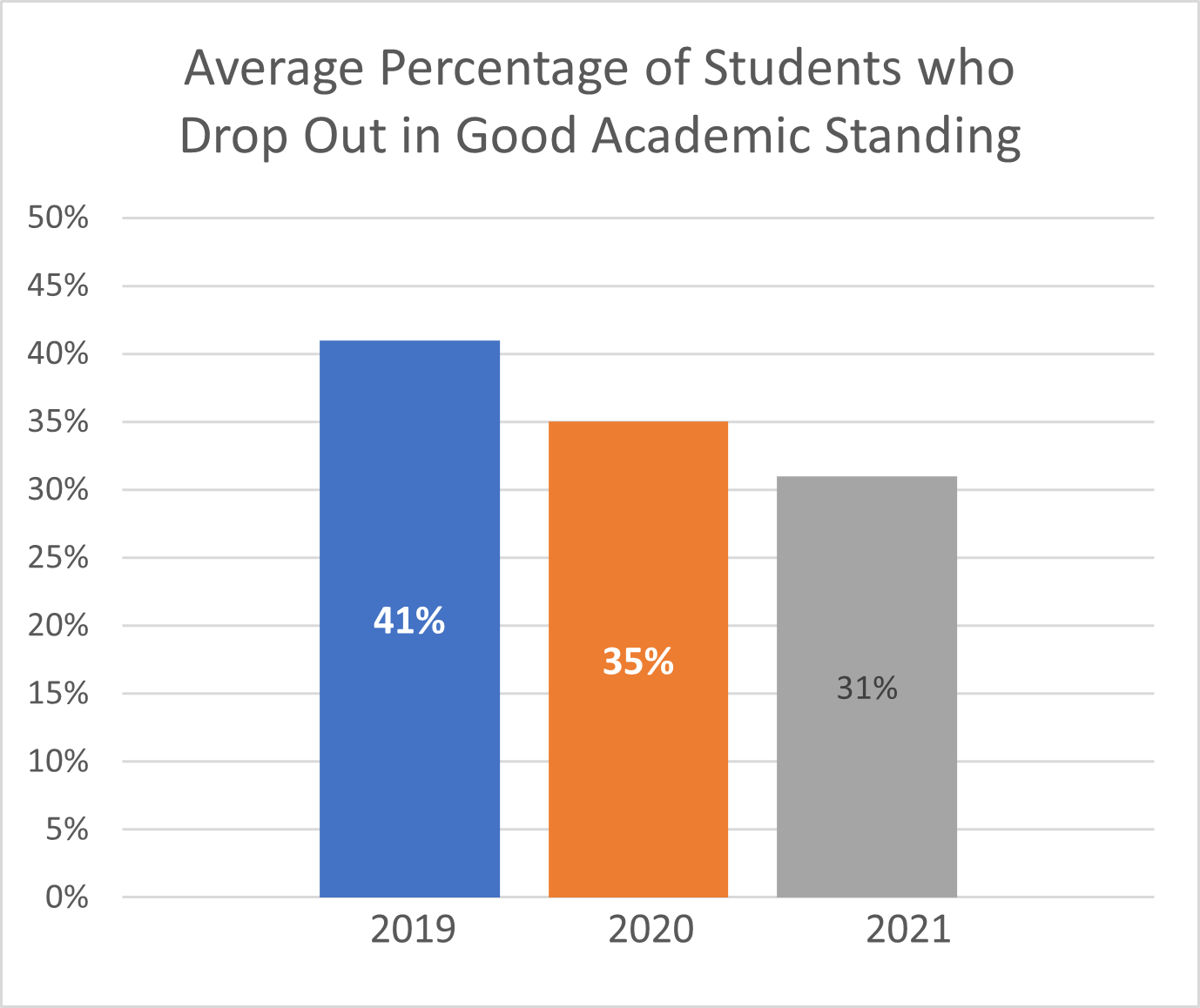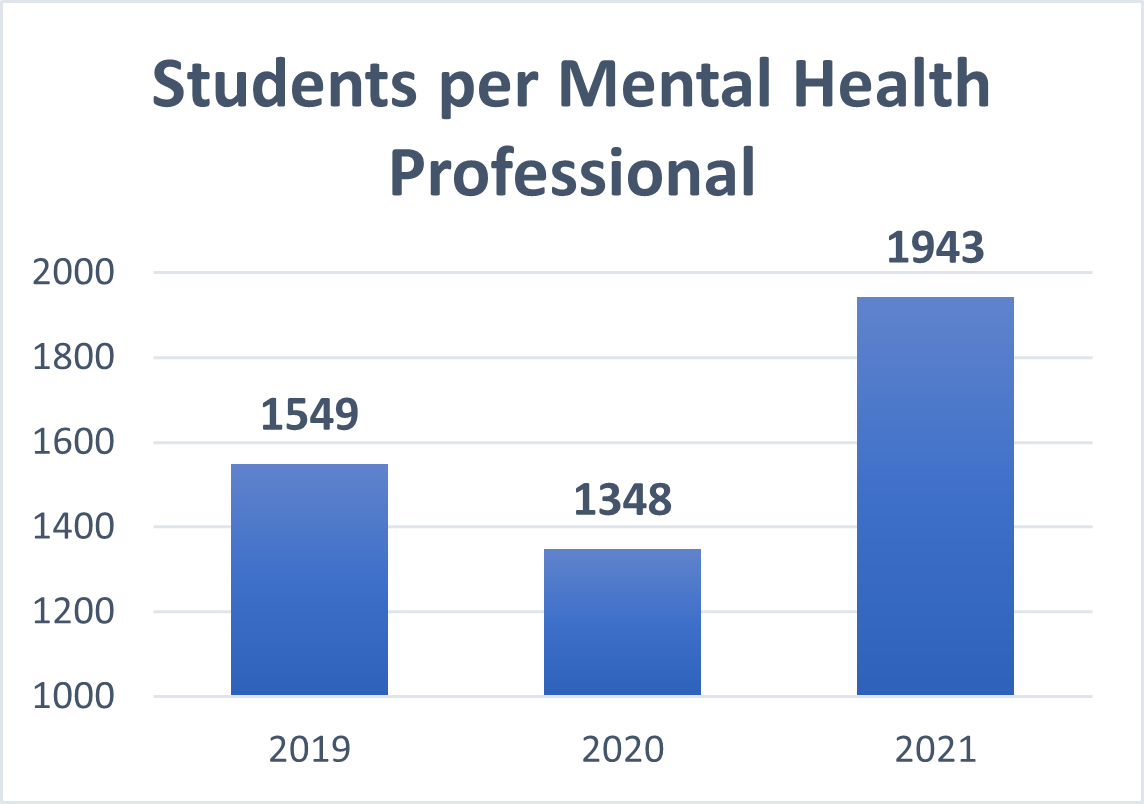 Students per Mental Health Professional
The student per mental health professional ratio has decreased since 2019, meaning there are more mental health professionals for the students.  This is a positive trend that allows students easier access to and less wait time to see mental health professionals.  Mental health continues to be important to college students who are dealing with difficult adjustments with school and often being far from family.  During Covid-19, access to mental health services is especially important for our FGLI students who are dealing with additional obstacles.