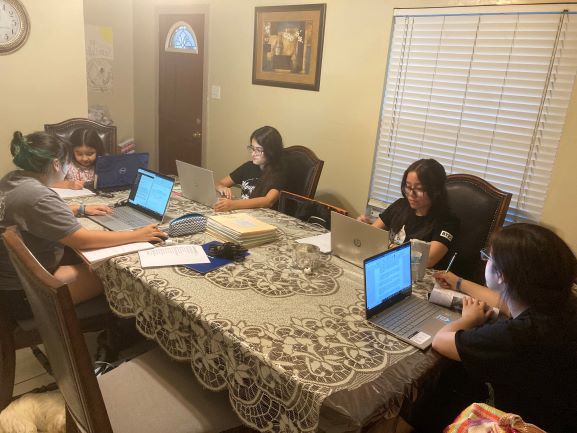 Many of our ScholarShot scholars have faced adversity through the COVID-19 pandemic. Despite the challenges of virtual classes and meetings, isolation, and new community guidelines, our Scholars have prevailed. While we are incredibly proud of our resilient scholars who are continually adapting to the ever-changing 2020, we also want to recognize the challenges our students are facing. While some scholars have been able to return to campus, others have found themselves with even more responsibility than before.
Emily Sanchez is a sophomore student pursuing a nursing degree at Mountain View College. Emily joined the ScholarShot program in spring of 2019 and is the first in her family to attend college.
Emily's sophomore year at Mountain View has been far different than her first. Before COVID-19, Emily attended class on campus while living with her family in Dallas. Due to COVID-19, Emily's classes at Mountain View are now entirely virtual. While Emily is thankful for the opportunity to attend class virtually, this semester has been trying for her and her siblings.
While her parents are still employed full-time, both Emily and her oldest sister lost their jobs. Thankfully, Emily's income was not necessary to support her family. However, like many others, she experienced culture shock when switching from traditional schooling to virtual college. Emily explains that as time went on, COVID took a toll on her family. There was no longer an escape from home, school, or vice versa – all of her family's stress was combined in the same environment.
Once summer arrived, traditional home responsibilities once managed by her parents were given to Emily since she was not working and on summer break from college. Initially, helping with her three younger siblings and managing a household was doable. However, as summer turned into fall, Emily returned to virtual college courses and her siblings returned to virtual school as well.
Emily now had the added responsibility of assisting her three younger siblings with online school while also taking her college courses. Four children of the Sanchez family do virtual school in one room of their home. Emily is responsible for the virtual education of her elementary aged sibling, middle school sibling and her younger sister in high school.
"We all study in one room, I assist them with their studies and still have to be responsible for my own studies apart from my house chores. Despite the overwhelming environment and mental toll that has been taking over me, I am able to rely and talk to my ScholarShot Academic Manager to support me with multiple suggestions about how to stay on track with school as well as my own mental health," Emily states.
Kenya Silva, who is also a prior ScholarShot graduate, is Emily's Academic Manager. At ScholarShot, we know that the persistent support of our Academic Manager's help our Scholars reach the highest level of success. With the help of her Academic Manager, Emily is managing all her responsibilities while also prioritizing her college degree.